JLAG: Call for Covert Art
The Journal of Latin American Geography
CALL FOR COVER ART / LLAMADO PARA ARTE DE PORTADA
---
The Journal of Latin American Geography seeks submissions of original photography, cartography, and other visual artwork to be considered for the cover of each of the journal's three annual issues. While all submissions will receive full consideration by JLAG's editorial team, we're particularly interested in visual interventions that highlight geographical dimensions of pressing contemporary issues and events in Latin America.
In order for your work to be considered, please submit the artwork itself (medium resolution is fine for initial submission), and a cover letter that includes a statement confirming authorship of the artwork, a complete description/explanation of the artwork for the editorial team, and a shorter, two-sentence description of the artwork that would be printed on the editorial page of the issue.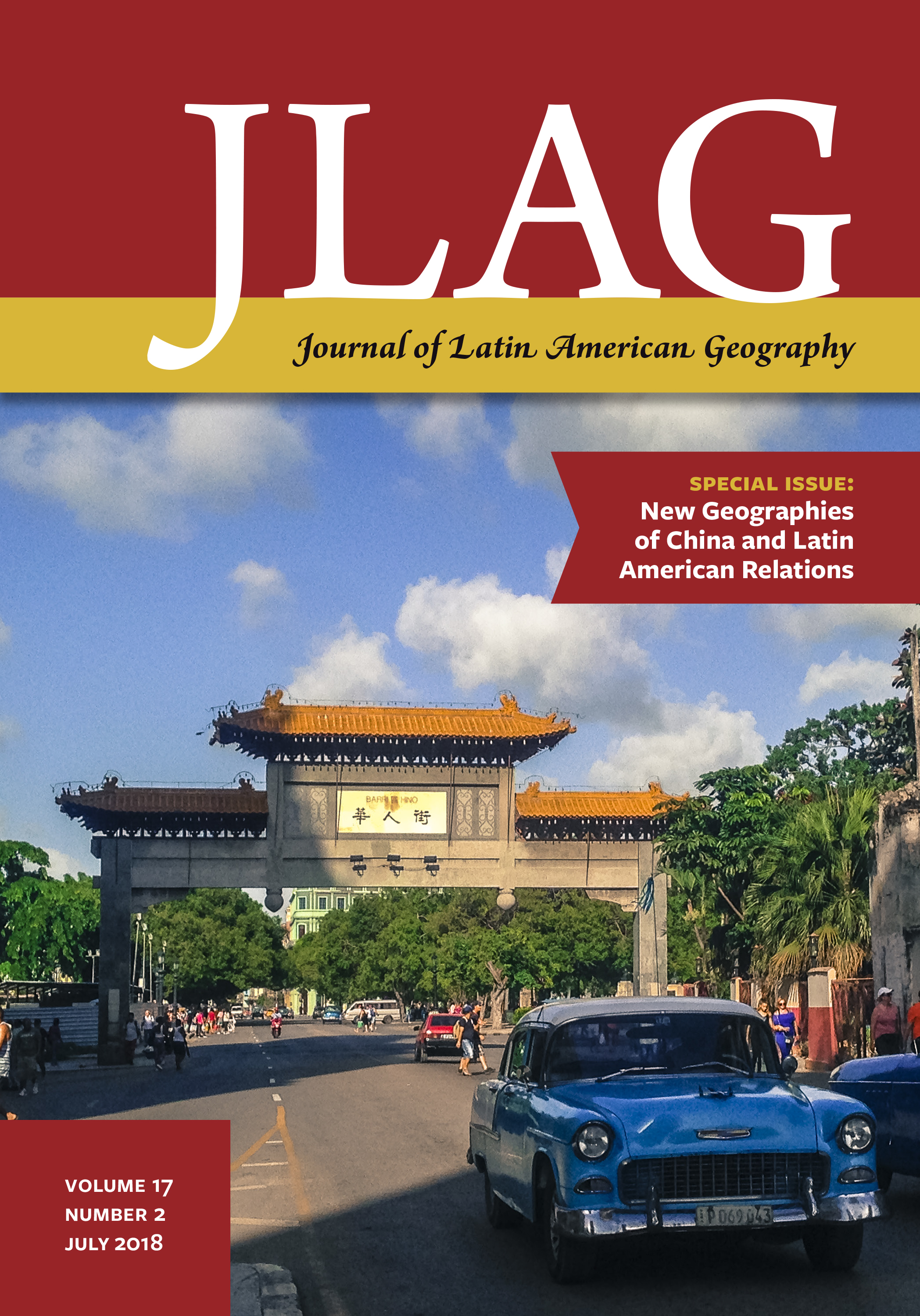 Artwork and cover letters can be submitted by clicking the "Submit Article" link on the journal's website: https://digitalcommons.lsu.edu/jlag/

All submissions received by May 25, 2019 will be considered for the cover of the forthcoming issue, which will be published in June. All submissions received beyond that date will be considered on a rolling basis for future issues.
Questions and other inquiries should be directed to Johnny Finn (john.finn@cnu.edu).
* * * * * * * * * * * * * * * * * * * * * * * * * * *
El Journal of Latin American Geography hace un llamado al envío de fotografías, cartografía y cualquier otra forma de arte visual original para ser considerado como imagen de portada de cada uno de los tres números anuales de la revista. Todas las propuestas serán consideradas por nuestro equipo editorial, pero estamos particularmente interesados en intervenciones visuales que resalten las dimensiones geográficas de problemas y eventos contemporáneos en América Latina.
Si desea que su trabajo sea considerado, por favor envíenos la obra en si (resolución media está bien para la propuesta inicial). Incluya además una carta que contenga una declaración suya confirmando la autoría de la obra, una explicación/descripción de la obra para el equipo editorial y una descripción más corta (dos oraciones) de la obra, que será impresa en la página editorial del número de la revista que incluya su trabajo.
La obra de arte y la carta pueden ser enviadas a través sitio web de la revista, haciendo clic en el enlace "Submit Article": https://digitalcommons.lsu.edu/jlag/
Todas las propuestas recibidas antes del 25 de mayo de 2019 serán consideradas para la portada de nuestro próximo número, que será publicado en junio de este año. Todas las propuestas recibidas después de esa fecha se tendrán en cuenta para futuros números.
Las dudas y preguntas deben dirigirse a Johnny Finn (john.finn@cnu.edu).
* * * * * * * * * * * * * * * * * * * * * * * * * * * * * * * * * * * * * * * * *
Journal of Latin American Geography
Vol 18, No 1 available now